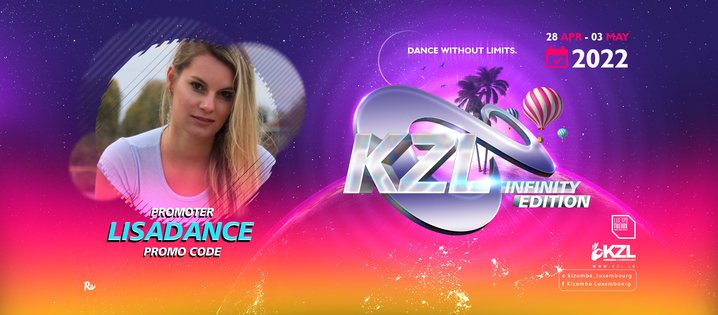 Luxembourg International Kizomba Festival - 8th Infinity Ed.
28. April 2022 - 03. Mai 2022
Offizielle Website: www.kzl.lu
Promocode: LISADANCE
"KZL", which stands for KIZOMBA LUXEMBOURG, is known as one of the best organisations worldwide and was founded in Luxembourg to promote this beautiful dance culture called Kizomba. Our team is composed of more than 60 passionate dancers and DJ's who put a lot of effort to make your experience unique. Our strength is our organisation skills that is based on the expectations of our kizomba lovers. Our 8th edition proves our outstanding management skills of our passed events. The fact that we are on a strategic position who is in the heart of Europe helps to center people on our spot. Having the best artists and DJ's known in the whole world will make every beginner as experimented dancer exceed their dance skills. 
BE A PART OF IT!